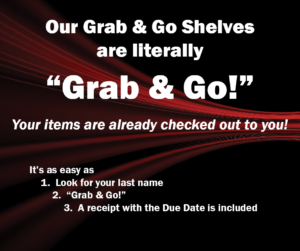 "Grab & Go" Pickup in the Hoboken Library is literally

"Grab it and GO!"

, and our meeScan app 
Take advantage of our convenient "Grab & Go" Pickup service inside the Main Branch at 500 Park Avenue.  Just come into the Library to pick up up materials placed for you on the Holds Shelf on the first floor, to the left of the Circulation Desk.  No need to check out your material; we've already done that for you!
Did you knows? Placing orders is a snap on our online catalog.

"Of course, there's an app for that."
If you've browsed the shelves, and found something you want to check out, you can use our "meeScan" app to check out materials with your smartphone.
It's a barrier-free, private, self-service feature for library customers of all ages.  Using it is as simple as scan the barcode and go!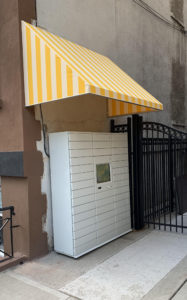 Self-Service Pickup Lockers, in two convenient locations!
To make it easier to get library materials (books, DVDs, CDs, etc.) ordered via the Library's online catalog, use our Self-Service Locker Pickup to obtain their material 24/7.  The lockers are located next to Library Annex 1 at 256 Fifth Street, adjacent to the Main Library.  You can also select the Self-Service Lockers at our Branch at 124 Grand Street.  Please wait for an email to alert you that your materials are ready for locker pickup.
Further, our Library by Mail service is available for patrons who are unable to visit the library due to illness, age or disability. Library by Mail delivers library material straight to your door – at no cost to you.  To apply for this program, please click here.
The Library will continue to provide a wide variety of virtual programs and a selection of eBooks, downloadable audio books, eMagazines, and streaming music and movies. Find out all that's available by visiting www.HobokenLibrary.org.
Stay up to date with eNews
It's easy to know what's happening at HPL! Give us your email address; we'll send you HPL's eNews. Simply text HOBOKENPL to 22828 to get started.
Updated 2/17/2022 -MC