Update, March 22, 2021:
As you know, we have been complying with mandated restrictions on how many people at a time can use the library, and limits on visit length. With the State easing restrictions, we are pleased to tell you that we have doubled  the amount of time you're welcome to use the Main Reading Room to two hours (it had been one), and increased the amount of people who can use the room to nine.
As for our ever-popular Teen Room on the third floor: It now welcomes ten teens/tweens for two-hour visits.
The Computer Room still welcomes three people at a time, and we continue to ask that there only be one person at a time in each aisle of the stacks.
As the situation evolves, we look forward to further restoring services, as we've said from Day One, one safe step at a time.
Thank you for your patience.
---
Welcome back!
A message from Lina Podles, Director of the Hoboken Public Library:
Posted 9/20/2020
Over the past couple of months, after a process of "gradually restoring services" for the community, we are opening the Library's doors to the public on Monday, September 21. You'll be able to browse the stacks, use the public computers (without having to make an appointment), visit the Children's and Tween/Teen areas, and enjoy the many places and services you've missed lately.
Of course, we have had to make adjustments. In the interest of public health, we've reduced the amount of people who can be in any area at a time, but we will be as accommodating as we can. And we've moved a few areas: While the adult fiction and non-fiction collections are still in the first floor stacks, the Tween/Teen collection and TeenZone are now on the third floor; the Children's Room is still on the first. The TOYBRARY remains closed for the time being.
The public computers are on the second floor. The programming rooms remain closed as we are using those for quarantine processing.
We'll be open 10 am to 8 pm Monday through Thursday, and 10 am until 5 pm on Friday and Saturday. Our "Grab & Go" service will be open the same hours. The Teen Room on the third floor will be open 2 pm to 6 pm Monday through Saturday.
Because we want to ensure everyone can use the Library, we are asking you to limit your visit to one hour; this enable your neighbors and friends to use the Library, too. The children's room visit is limited to 30 minutes.
In order to observe safe social distancing rules, there is a limit of maximum 3 people in circulation, 9 people in reference/computer labs, 6 in the teen area, and 2 adults and 4 children in the children's room. Please note, you might be asked to wait to be allowed into the areas to maintain safety occupancy guidelines.
We are also opening the Branch at 124 Grand Street. It will be open Monday through Saturday from 10 am until 3 pm. It, too, offers "Grab & Go" service. You'll be able to browse the stacks, but please limit your visit to 30 minutes. It's a convenient but compact library, and we want everyone to enjoy it.
We've introduced an app that makes your visit a bit more fun: It's called "meeScan," and lets you borrow a book as soon as you take it off the shelves! The app is available for both Android and iOS platforms.
Our ever-popular live events will continue to be held online via the Library's Facebook page and Zoom. If you've missed any of them, you can see them on our YouTube channel.
Finally, we invite you to "attend" our virtual 130th Anniversary Celebration. It's happening on Saturday, October 3, starting at 11 am. There are events for every age. See the lineup of activities right here.
We're glad to have you back!
Posted 9/20/2020 -MC
Updates — in bold — posted 10/13/2020 -MC
---
We are in the process of resuming library services, one step at a time
Step Four: "Grab & Go" Pickup in the Hoboken Library, and our new meeScan app 
Now you can take advantage of our convenient "Grab & Go" Pickup service inside the Main Branch at 500 Park Avenue.  Just come into the Library to pickup up materials placed for you on the Holds Shelf on the first floor, to the left of the Circulation Desk.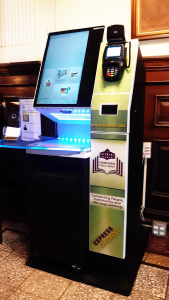 To ensure your health, and that of our staff, you MUST wear a mask to enter the library, and keep it on during the entire time of your visit.  Only two people will be allowed in the Grab & Go area at a time; a staff member will be stationed inside the front doors to control access.  ("Browsing the stacks" is still not permitted, but you can ALWAYS browse and order through our online catalog.)
Please note: You will need to use our Self-Checkout Machine, located next to the Hold Shelves, before you leave.

"Of course, there's an app for that."
You can also use our new "meeScan" app to check out materials with your smartphone.
It's a barrier free and private self-service feature for library customers of all ages.  Using it is as simple as scan the barcode and go!

This item posted Tuesday, August 18, at 6:30 pm -MC

---
Step Three: HPL Announces Next Reopening Phase: Computer Service
The next step in the Library's phased reopening is welcoming the public for computer appointments.  This is in addition to the Library's current Curbside Pickup and Library by Mail services.
Starting Wednesday, July 22, customers will be able to use Library computers on the Library's second floor.  The computer area has been reconfigured to maximize computer use while still maintaining social distancing and COVID-19 safety protocols. 
On Monday, July 20, Hoboken Library Card holders can call the Library at 201.420.2346 to make a computer appointment.  Appointments last for one hour, and are available
• Monday through Thursday from 10:30 am – 11:30 am; 12 pm – 1 pm; 2:30 pm – 3:30 pm; and 4 pm – 5 pm.
• On Fridays and Saturdays, appointments are available from 10:30 am – 11:30 am; 12 pm – 1 pm; 2 pm – 3 pm; and 3:30 pm – 4:30 pm.
The half-hour periods between appointments are used by the Library staff to sanitize the computers and work stations.
To enter the Library for your appointment, please line up – maintaining social distancing – outside the front door on Fifth Street, along the marked path.
Computer access is only available to adults 18 years old and older; only one person will be allowed at each computer at a time.  The Library has three computers and four laptops available during this initial phase. Customers are encouraged to arrive to the library at least 5 minutes prior to their appointment; customers will be escorted to the second floor computer area by staff.  To ensure the safety and health of all involved, late arrivals will probably not be admitted.
All library users are required to wear masks to enter the building, and to wear masks at all times while in the building. Social distancing will be enforced, and patrons will not be allowed to move the furniture.  Library staff will monitor the use of equipment from a distance of 6 feet away.
At this time, the shelves continue to be closed to the public, but we are encourage library patrons to continue reserving material on the library's online catalog and scheduling pickup times.  (This program has proved immensely popular.)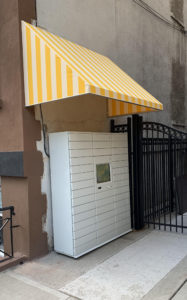 To make it easier to get library materials (books, DVDs, CDs, etc.) ordered via the Library's online catalog, customers will shortly be able to select Self-Service Locker Pickup to obtain their material 24/7.  The lockers are located next to Library Annex 1 at 256 Fifth Street, adjacent to the Main Library.  Please wait for an email to alert you that your materials are ready for locker pickup.
Further, our Library by Mail service is available for patrons who are unable to visit the library due to illness, age or disability. Library by Mail delivers library material straight to your door – at no cost to you.  To apply for this program, please click here.
The Library will continue to provide a wide variety of virtual programs and a selection of eBooks, downloadable audio books, eMagazines, and streaming music and movies. Find out all that's available by visiting www.HobokenLibrary.org
It's easy to know what's happening at HPL! Give us your email address; we'll send you HPL's eNews. Simply text HOBOKENPL to 22828 to get started.
This item posted Friday, July 17, at 11:30 am -MC
---

Curbside Pickup was replaced by "Grab & Go" on August 18
Step Two: Curbside, No-Contact Pickup
You can order library materials via our Online Catalog, or by emailing the Circulation Department at hobkcirc@bccls.org, or calling (201) 420-2346 x 5102
You can pick up your materials — by appointment only — either at the Main Library on Fifth Street, or at the Branch Library on the second floor at the Multiservice Center at 124 Grand Street.
---
Step One: The Book Return is open.
We are bringing teams of staffers back to the building to prepare for our eventual reopening.  The first part of this effort is to enable you to return materials to the library.  The book return bin will be open 24/7; please do not be concerned if you see returned items on your account as long as a week after you've returned them.  You will not incur fines.  The delay is cause by the volume of material we anticipate receiving, and the quarantine process we are employing to ensure that materials are safe for handling.
This item posted June 5, 2020 -MC
Updated for 24/7, July 15, 2020