Art with Liz Cohen Ndoye
A series of videos created exclusively for the Hoboken Public Library's "Art with Liz" Program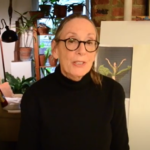 Art teacher Liz Cohen Ndoye holds a regular series of Wednesday sessions at the Hoboken Library for artists of every level.  Her gentle coaching coupled with her extraordinary talent have gathered a loyal following.
Each lesson — posted here every Wednesdays — enables you to keep learning and refining your own artistic skills.
So, click the links below, watch as often as you like, and enjoy!
August 11, 2020
July 29, 2020
July 15, 2020
July 8, 2020
July 1, 2020
June 24, 2020
June 17, 2020
June 10, 2020
June 3, 2020
May 13, 2020
May 6, 2020
April 29, 2020
April 22, 2020
April 15, 2020
April 8, 2020
April 1, 2020
March 26, 2020