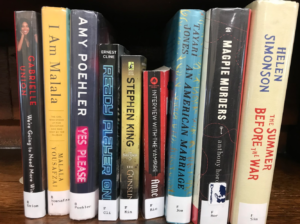 Hoboken Public Library Book Clubs
Share your passion for reading at one of our many book clubs. Fans of popular literature, science fiction, and memoir will find like-minded readers for illuminating discussions.
All library book groups are open to the public. No registration is required. Drop-ins are highly encouraged.
Mystery Book Club 
Join us for our new Mystery Book Club! Launched October 2018, the Mystery Book Club typically meets on the second Tuesday of the month at 4:30pm. We read all types of mysteries from cozies to hard-boiled to classics. Next months titles are revealed at the end of our book discussion. If you have any questions, like to join our email list or RSVP, contact rosary.vaningen@hoboken.bccls.org
See our Past Picks here.
Hoboken Public Library Science Fiction and Fantasy Book Discussion Group
The HPL Sci-Fi and Fantasy Book Discussion Group was started in January 2014 due to a library patron request. We read classic and new works of speculative fiction picked out by group members. Books discussed have included works by Larry Niven, Octavia Butler, George R.R. Martin, Mary Shelley, Bram Stoker, Ray Bradbury, HG Wells, Catherynne M. Valente, and Isaac Asimov.
The group typically meets at 6 PM one Monday or Thursday a month. We encourage new members! Before the discussion usually at 4 PM we screen a movie or TV adaptation of the book. When an adaptation is not available we watch related works or movies in a similar genre.
Email hplwriters@gmail.com to join the mailing list.
See our Past Sci-Fi and Fantasy Picks here.
Meeting dates are subject to change–please see our events calendar.
What's New -Book Club
The What's New  Book Discussion group was launched in May 2021. We read popular recent releases, such as Weather and Anxious People. The group meets on the last Wednesday of each month at 5 PM. Those interested in attending, please email megan.flynn@hoboken.bccls.org to RSVP, join our mailing list or if you have any questions. New members are welcome!
See our past picks here!
Pride Book Discussion Group
New to our library in 2022, the Pride Book Discussion Group typically meets in-person on the third Tuesday of the month at 6:30pm. Any queer-identifying person or ally is welcome to join us for one or all of our discussions of books centering LGBTQ issues. We will read both fiction and nonfiction books that interrogate queer representation, our perceptions of LGBTQ identities and dynamics, and larger societal patterns that affect and are affected by LGBTQ-inspired ideas. For any questions or to join, please contact stephanie.lodico@hoboken.bccls.org.
See our past picks here