2023 Library Budget Overview
New Jersey law (N.J.S.A. 40:54-8) sets the minimum funding for municipal public libraries at "1/3 mill," or $0.333 on each $1,000 of equalized value of all assessable property in the City. By State law, the municipality must allocate this money to the library in its annual budget.
The 2023 Hoboken Public Library budget carefully aligns the City of Hoboken's tax appropriation with the vision of the Library as a community hub for all residents as approved by the Board of Trustees in the three-year Strategic Plan.  The 2023 budget supports the mission of the Plan to create a Library that connects people with each other, ideas, and opportunities to support lifelong learning, personal growth, and community development.
2023 Adopted Hoboken Public Library Budget
Reading, Information & Technology
Library Supplies & Administration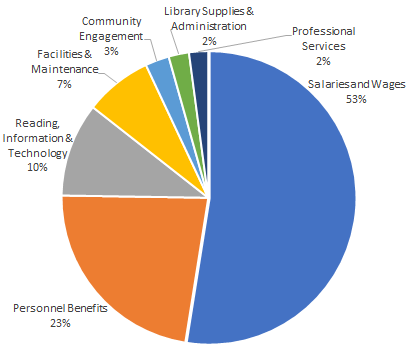 The Hoboken Public Library values integrity and acts with honesty and fairness as it conducts its business.  As part of the Library's commitment to transparency and open government, recent audit results are posted here for public review.
Posted 3/2/2023 -MC; content by CH