Sign up for




1000 Books Before Kindergarten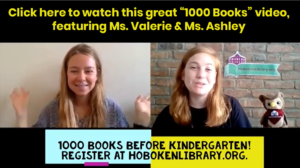 Register for 1000 Books Before Kindergarten at HPL! 1000 Books Before Kindergarten is a fun way to help prepare your child for Kindergarten. 
Reading to a child expands their language skills, imagination, and it is a great bonding experience that will create life-long memories.The guidelines are simple; for every book you read, make sure to log it into your READSquared account. Yes, repeats count!
If you read the same book 10 times, enter in 10 spaces on your reading log. For every reading log you complete, you will receive a digital badge! You will also periodically be receiving raffle prizes through READSquared to celebrate your progress, and consistent literacy tips from our literacy coordinator. Remember, if you read 3 books a night every night, that is 1,095 books in one year! For any questions please email Ms. Vanessa.
Contact us if you have any questions about programs and services for your young readers.

Britannica Inside the Library Click here to access in the library
For Children
Britannica Outside of the Library Login with Your Library Card
For Children
Infobase Resources for Children
African-American History
Science Online
Health Reference Center
The Mailbox Plus
The World Almanac for Kids 
To see the full calendar of events for children, please click here.
---

Attention Teachers and Educators:
Class visits are geared towards your liking: You can work with a librarian to plan a visit based on the age and needs of your classroom! If you would like to book a visit with us, click the link here. Contact alyssa.daniello@hoboken.bccls.org with any questions.

Revised 10/20/2022 -VC