The Main Branch of the Hoboken Public Library is open and under renovation.  So…
"Please pardon our appearance"
The First Floor's Children's Collection, Media Collection, and Adult Lending Collection are all open, as are the Public Computer Area and Main Reading Room on the Second.
The Local History Collection will be accessible by request. And the basement – home to the Large Program and Garden/Small Program Room – will be available on a limited basis.
With the reopening, the Grab & Go service will be moved back inside to the First Floor of the Main Branch, but you can also take advantage of the Library's 24/7 Self-Service Lockers outside the Main Branch and outside the Branch at 124 Grand Street.
Don't forget about the convenience of Curbside Pickup. And ordering materials is just a click away at our online catalog.
---
Installation of a new HVAC System.
One of the major challenges of a century-old building is keeping it warm in the winter, and comfortable in the summer. The current HVAC system, installed many decades ago, was not equal to the task.  Accordingly, a new, high efficiency HVAC system is being installed.
The four pictures below, taken in late July, show the level of work — and care — involved in the process.
The Main Reading Room is Under Construction.
The pictures illustrate how the work is progressing.  On the left, below, is the Computer Room, showing the Reference Desk. To the right is the Local History Room. Our entire Local History Collection has been packed away, safely, to one day again grace the shelves of this special area.
The panoramic view below shows how the Main Reading Room is protected from the contractors' work spaces.
Renovation of the Third Floor began in June.
The long-awaited renovation of the Library's Third Floor began in early June, 2021. When it's complete, the Third Floor will once again be home to our Children's and Teen/Tween Departments, with new furnishings, energy-efficient lighting, and other improvements that will use the latest, safest materials while retaining the historic nature of the Library building.
The TeenZone — formerly on the Third Floor — has been moved to the Branch at 124 Grand Street. To offset the inconvenience, we extended the Branch's closing time from 3pm to 6pm most weekdays.
The Furnace.
Looking akin to something out of the children's book Mike Mulligan and His Steam Shovel, this 1890s-era furnace has provided heat for over a century.  Initially fired by coal, and converted decades ago to gas, it is unequal to the tasks now required of it.  It is being replaced by an energy-efficient HVAC system.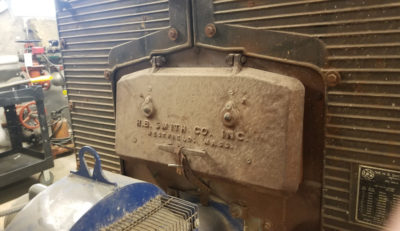 A History of Service.
Since April 5, 1897, the Library building at 500 Park Avenue has been serving Hoboken's diverse and ever-changing community.  But a Library built in the 19th Century is not equal to the needs of a 21st Century community.  And that is why the Trustees of the Hoboken Public Library have approved a staged renovation of the building.
Updated Monday, August 9, 2021 -MC