Scheduled Library Closings and Early Closings for 2021
The Main Library, Grand Street Branch, and Learning Center at HHA, will be closed as noted below.
Remember: You can ALWAYS order from our catalog, download books & videos, do research, and so much more,
right here at HobokenLibrary.org.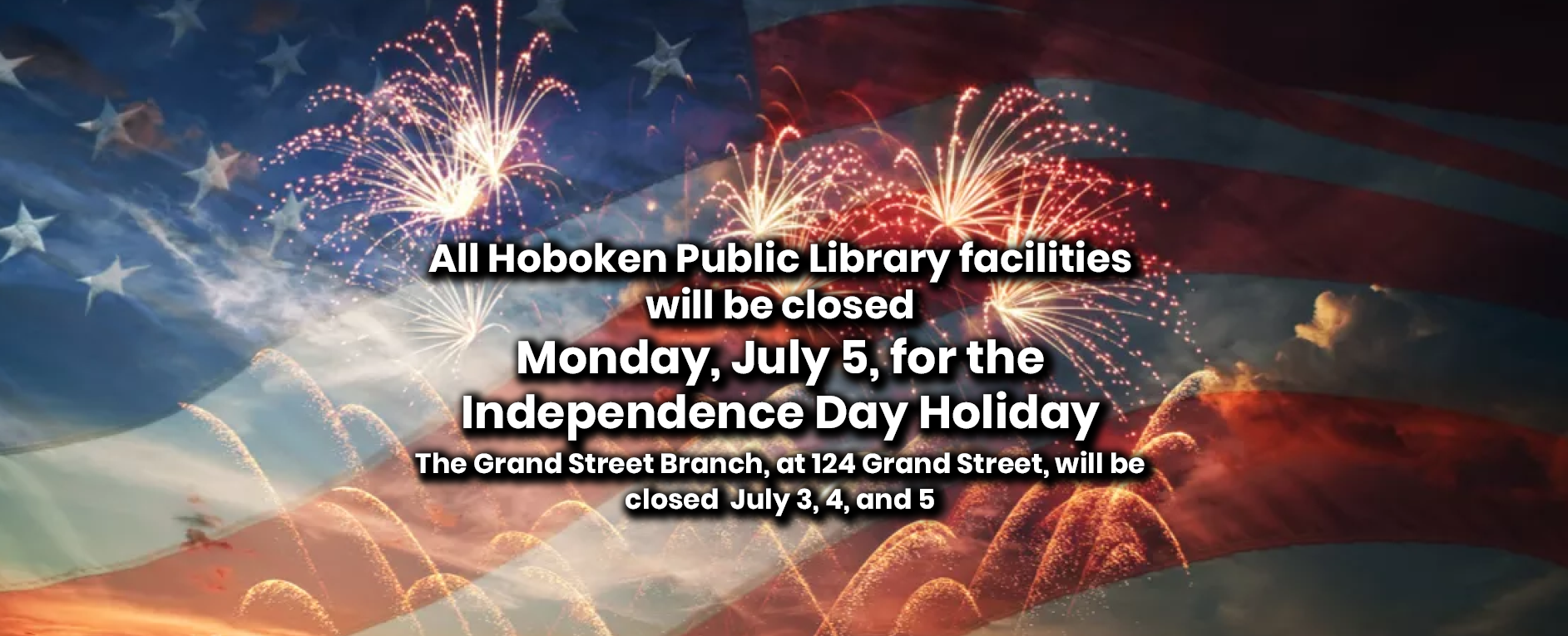 January 2021
New Year's
Full Day Closed: Thursday, 12/31/20
Full Day Closed: Friday, 1/1/21
Martin Luther King Jr. Day
Full Day Closed: Monday 1/18
February
President's Day
Full Day Closed: Monday 2/15
April
Easter
Full Day Closed: Sunday 4/4
May
Memorial Day Weekend
Full Days Closed: Sunday 5/30 and Monday 5/31
July
Independence Day
Full Days Closed: Sunday 7/4 and Monday 7/5
The Grand Street Branch will be closed Saturday 7/3, Sunday 7/4, and Monday 7/5
September
Labor Day
Full Days Closed: Sunday 9/5 and Monday 9/5
October
Columbus Day, 10/11
The Main Library at 500 Park Avenue is OPEN 10 am – 8 pm
The Grand Street Branch in the Multi-Service Center at 124 Grand Street is CLOSED.
November
Thanksgiving
Early Closing: Wednesday 11/24 at 4 pm
Full Days Closed: Thursday 11/25 and Friday 11/26
December
Christmas
Full Days Closed: Friday 12/24 (Christmas Observed) and Saturday 12/25 (Christmas Day)
New Year's 
Full Days Closed: Friday 12/31 (New Year's Observed) and Saturday 1/1/22 (New Year's Day)
Updated 12/22/2020
MC