Don't miss the Hoboken Library Festival
Saturday, October 15 | 11 am – 4 pm
Church Square Park

5th Street, between Willow and Garden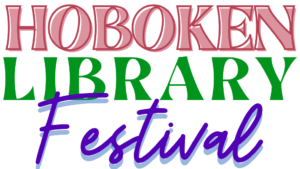 This annual community-wide event celebrates reading and everyone's favorite season: Fall!  Full of activities for all ages, this festival of literacy showcases the many services the Library provides our Mile Square City. 
Come to this great event and have fun, borrow bestsellers and the latest movies, buy some gently-used books from the Friends of the Library, and see what's new (and believe us, there is something new) at your Library.
The Main Stage
Book Talks & Readings Tent
Book Talks and Poetry Readings: Join us for author book talks and poetry readings.  You'll meet:
Local Authors Tent
Meet the authors who write and live nearby.  Some will have books your can purchase — and have autographed. 
The Gazebo
2 pm – 3 pm: Mic-Club Open-Mic Concert featuring Behique
Arts & Crafts Tent
For all ages, the Arts & Crafts tent offers the best of all the crafty activities our programming teams offered this year.
Book Sale
Our Friends have an extraordinarily wide and varied selection of gently used books and other materials sure to enchant and engage.
Children's Tent
Kids are going to love all the fun things our Children's Librarians are presenting.  From Story Times and kid-safe crafts, to activities sure to entertain and educate, this tent is a must for all children.
Teens Tent
Full of activities to engage even the most active young adult, the Teen Tent is an all-day series of fun.
Meet our partners…
A wealth of community organizations will be on hand to explain all the services they have to offer.  Please make it a point to visit them!
Community Lifestyle
Friends of Church Square Park
Hoboken Fire Department
Hoboken Historical Museum
Hoboken Housing Authority
Hoboken Public Schools
Hoboken Rainbow Family
HOPES
Hudson Pride Center
Hudson SPEAKS
LiteracyNJ
Maker Bar
Mile Square Theater
The Green Fair
And don't forget to visit the Green Fair on the south side of the Park.  The Green Fair and the Library Festival, all in one park on one Saturday.  This is truly a celebration of community.
Updated 10/10/2022 -MC